Dear Friends and Colleagues,
It is with great pleasure that we invite you to The 2nd International Conference on Controversies in Neuropathic Pain which will take place 27 January 2022 as a virtual full day meeting.
Following the very successful first f2f-meeting which took place in October 2019 before the pandemic in Munich, the up-coming congress promises to be at least as inspiring as the previous one. However, as these volatile times call for safe ways to meet, we decided still for the virtual way.
We have put together an excellent and exciting fully packed program to engage researchers and clinicians alike with a series of plenaries, pro & con discussions and meet the expert sessions.
Regrettably sustained high-quality discussion of controversial issues rarely occurs in medical meetings, but these issues will get raised, if not by doctors, then by their patients. Promoting constructive dialogue about controversy is a matter of educational will. And we will!
For this, a well-balanced mixture of internationally known speakers from around the world will provide us with their latest knowledge about controversial issues on mechanisms, assessment, prevention and treatment of neuropathic pain. Let's get into discussion with them and let's broaden our understanding.
Don't miss it and take the time to join us in January for this comprehensive scientific one day program which offers both sides, researchers and clinicians, a wonderful opportunity to exchange news and views.
Research into neuropathic pain is still one of the most active areas in neuroscience. Therefore, share your latest investigations and ideas by submitting an abstract for oral or e-poster presentation. A selection of the best abstracts will be scheduled into the program. Or join us as a sponsor or exhibitor and benefit from maximum visibility and exposure to a broad audience.
I am convinced you will find it of relevance in your everyday practice, bench or bedside, and I look forward to your contribution to the conference and to meeting you online in January 2022.
Yours,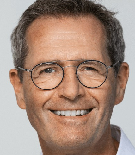 Prof. Dr. Rainer Freynhagen, DEAA
Feldafing & Munich, Germany
Conference Chair