INSTRUCTIONS FOR E-POSTER PRESENTATIONS
Please note the following information for the preparation of your e-poster.
Only the accepted abstracts of fully registered and paid presenters will be included in the final Congress program.
E-POSTER PREPARATION
The e-poster layout can be either PORTRAIT or LANDSCAPE.
E-Poster format: PDF up to 5 MB
Allocate the top of the poster for the title and authors as stated on the submitted abstract – as illustrated below.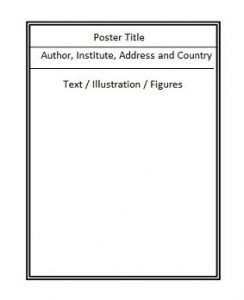 INFORMATION FOR PRESENTATIONS
E-Posters will be available for viewing for the duration of the Congress and for a period of two months after the Congress.